Best Song Ever
is a song recorded by English-Irish boy band
One Direction
. It was released on 22 July 2013 by Syco and as the lead single from the group's third studio album,
Midnight Memories
.
Background
Edit
The song was first revealed via a short announcement video tweeted by Niall Horan on June 25, 2013. The video confirmed that the song would be available to pre-order at midnight (GMT on June 25th). In the video, Liam Payne mentioned that the official movie trailer for This Is Us was going live in "about half and hour" and if you watched it you "might just catch a little snippet" of the song. Louis Tomlinson ended the video by saying "Hope you like it!" [1]
Reception
Edit
"Best Song Ever" received mixed to positive reviews from contemporary music critics. Amy Sciaretto of PopCrush awarded the song 3 and a half out of 5 stars, stating that "the first 20 seconds and intro of the song" were likely an "intentional homage" to The Who's "Baba O'Riley", however that the rest of the song was "signature 1D". Sciaretto went on to call the song "flirty, fluffy, and fun", dubbing the track "anthemic" and "cute", however stated that the song was not as catchy as their previous singles "Live While We're Young" and "Kiss You" and that it wasn't their best work. Click Music reacted negatively to the song, giving it 1 and a half stars out of 5, describing it as "tiresome" and called the song's writers "creatively barren", accusing them of plagiarism of The Who's "Baba O'Riley". It also called the song a representation of "the laziest, most mind-numbing trends in modern pop". [2]
Commercial Performance
Edit
The song debuted and peaked at number two on both the UK Singles Chart and the US Billboard Hot 100. It also reached a peak of number four on the Australian Singles Chart.
Music Video
Edit
Countdown
Edit
[Harry]
Maybe it's the way she walked (ow)
Straight into my heart and stole it
Through the doors and pass the guards (ow)
Just like she already owned it

[Zayn]
I said, "can you give it back to me?"
She said, "never in your wildest dreams"

[All]
And we danced all night to the best song ever
We knew every line
Now I can't remember
How it goes but I know
That I won't forget her
Cause we danced all night to the best song ever

I think it went oh, oh, oh
I think it went yeah, yeah, yeah
I think it goes...

[Liam]
Said her name was Georgia Rose (ow)
And her daddy was a dentist

[Harry]
Said I had a dirty mouth (I got a dirty mouth)
But she kissed me like she meant it

[Niall]
I said, "can I take you home with me?"
She said."never in your wildest dreams"

[All]
And we danced all night to the best song ever
We knew every line
Now I can't remember
How it goes but I know
That I won't forget her
Cause we danced all night to the best song ever

I think it went oh, oh, oh
I think it went yeah, yeah, yeah
I think it goes...

[Louis]
You know, I know, you know I'll remember you
And I know, you know, I know you'll remember me

[Zayn]
And you know, I know, you know I'll remember you
(Oh, oh, oh, yeah, yeah, yeah)
And I know, you know, I hope you
(Oh, oh oh, yeah yeah, yeah)
Remember how we danced
(Oh, oh, oh, yeah, yeah, yeah)
How we danced
(Oh, oh, oh, yeah, yeah, yeah)

[Harry]
1, 2, 1, 2, 3

[All]
How we danced all night to the best song ever
We knew every line
Now I can't remember
How it goes but I know
That I won't forget her
Cause we danced all night to the best song ever
(We danced, we danced, it goes something like, yeah)
Danced all night to the best song ever
We knew every line
Now I can't remember
How it goes but I know
That I won't forget her
Cause we danced all night to the best song ever

I think it went oh, oh, oh
I think it went yeah, yeah, yeah
I think it goes...

[Zayn]
Best song ever
It was the best song ever
It was the best song ever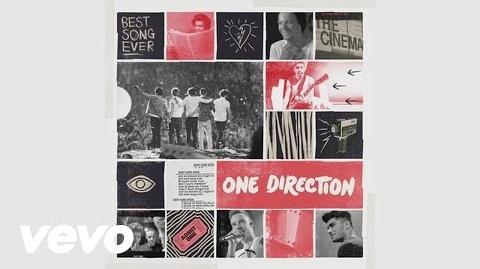 References
Edit