Night Changes
is a song recorded by English-Irish boy-band
One Direction
. It was written by Jamie Scott, Julian Bunetta and John Ryan, while the production was handled by Bunetta and Ryan. The song was released on 14 November 2014 as the second and final single from their fourth studio album
Four
. It was also the group's last single featuring
Zayn Malik
, as he announced his departure from the group in March 2015.
Background
Edit
"Night Changes" was revealed as the album's second single in an interview with radio host Scott Mills. The track was released on 14 November 2014, three days before the album's release
Critical Reception
Edit
ANDPOP writer Evan Ross stated: "The boys also wrote this song with their frequent collaborator Jamie Scott ("You & I," "Midnight Memories"); you really get the sense that One Direction are maturing through their music here. It's enough to make me want to go watch a video from their X Factor days and cry." [1]
Commercial Performance
Edit
The song charted at #7 and #13 on the UK Singles Chart and the Irish Singles Chart. It also peaked at #31 on the Billboard Hot 100.

Music Video
Edit
Countdown
Edit
[Zayn]
Going out tonight, changes into something red
Her mother doesn't like that kind of dress
Everything she never had, she's showing off

[Liam]
Driving too fast, moon is breaking through her hair
She's heading for something that she won't forget
Having no regrets is all that she really wants

[Harry]
We're only getting older baby
And I've been thinking about it lately
Does it ever drive you crazy
Just how fast the night changes
Everything that you've ever dreamed of
Disappearing when you wake up
But there's nothing to be afraid of
Even when the night changes
It will never change me and you

[Louis]
Chasing here tonight, doubts are running 'round her head
He's waiting, hides behind his cigarette
Heart is beating loud, but she doesn't want it to stop

[Niall]
Moving too fast, moon is lighting up her skin.
She's falling, doesn't even know it yet.
Having no regrets is all that she really wants.

[All]
We're only getting older baby
And I've been thinking about it lately
Does it ever drive you crazy
Just how fast the night changes
Everything that you've ever dreamed of
Disappearing when you wake up
But there's nothing to be afraid of
Even when the night changes
It will never change.

[Harry]
Me and you

[Zayn]
Going out tonight, changes into something red
Her mother doesn't like that kind of dress
Reminds her of the missing piece of innocence she lost

[All]
We're only getting older baby
And I've been thinking about it lately
Does it ever drive you crazy
Just how fast the night changes
Everything that you've ever dreamed of
Disappearing when you wake up
But there's nothing to be afraid of
Even when the night changes
It will never change, baby
It will never change, baby
It will never change.

[Harry]
Me and you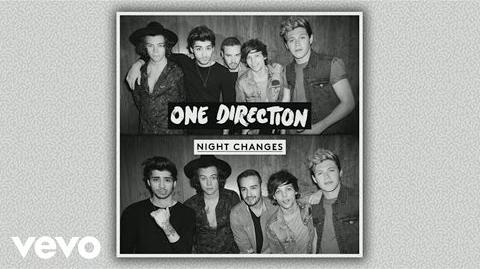 References
Edit