Take Me Home
is the second studio album by British-Irish group
One Direction
, released on 9 November 2012 by Sony Music Entertainment.
Background
Edit
In 2012, One Direction revealed that a follow-up release to their debut album, Up All Night (2011), was in development. "In the summer, we're going to get back and start a new record. We want to bring out a record nearly every year, every year and a half," Niall Horan said, revealing they were arranging "meetings and stuff with different writers and producers." In March 2012, McFly frontman Tom Fletcher confirmed that he would be writing a song for the album. In February 2012, One Direction expressed interest in working with Ed Sheeran, and in June 2012, Sheeran confirmed that they were in contact: "I'm going into the studio in August to produce the tracks for them. I won't feature on the tracks though". [1]
Live While We're Young was released as the lead single on September 28, 2012. The music video was directed by Vaughan Arnell.
Little Things was the second single from the album and was released on December 3, 2012. The music video was directed by Vaughan Arnell.
Kiss You was released as the third and final single from the album on January 7, 2013. The music video was directed by Vaughan Arnell.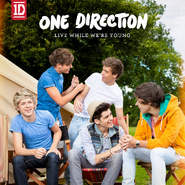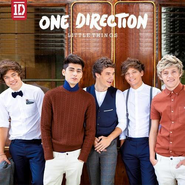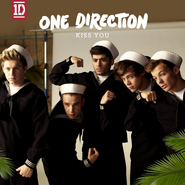 Commercial Performance
Edit
Globally, Take Me Home topped the charts in more than 35 countries, and was the fourth best-selling album of 2012, selling 4.4 million units. In the United Kingdom, the album sold over 94,000 copies in its first two days of sale. It debuted atop the UK Albums Chart with first-week sales of 155,000 copies, becoming their first album to top the chart and the second fastest selling album of 2012. The album and its second single, "Little Things", both debuted simultaneously at number one in the UK on 18 November 2012, making One Direction the youngest act in British chart history to achieve the feat. The album became the fifth best-selling album of 2012 in the UK, having sold 616,000 copies by the end of 2012. It was certified double platinum by the British Phonographic Industry (BPI) on 15 February 2013, denoting shipments of 600,000 copies. As of November 2014, the album has sold 960,255 copies in the UK. [2]
Track List
Edit
Standard Edition
#
Title
Writer(s)
Producer(s)
Length
1.
"Live While We're Young"
Rami Yacoub, Carl Falk, Savan Kotecha
Yacoub, Falk
3:20
2.
"Kiss You"
Shellback, Yacoub, Falk, Kotecha, Kristin Lundin, Kristoffer Fogelmark, Albin Nedler
Yacoub, Falk, Shellback
3:03
3.
"Little Things"
Ed Sheeran, Fiona Bevan
Jake Gosling
3:39
4.
"C'mon, C'mon"
Julian Bunetta, Jamie Scott, John Ryan
Bunetta
2:45
5.
"Last First Kiss"
Fogelmark, Nedler, Kotecha, Yacoub, Falk, Payne, Tomlinson, Malik
Fogelmark, Nedler, Yacoub, Falk
3:23
6.
"Heart Attack"
Shellback, Kotecha, Yacoub, Falk, Lundin
Yacoub, Falk, Shellback
2:56
7.
"Rock Me"

Allan Grigg, Sam Hollander, Peter Svensson, Lukasz Gottwald, Henry Walter

Dr. Luke, Cirkut, Emily Wright
3:20
8.
"Change My Mind"
Yacoub, Falk, Kotecha
Yacoub, Falk
3:32
9.
"I Would"
Tom Fletcher, Danny Jones, Dougie Poynter
Bunetta, Sam Waters
3:21
10.
"Over Again"
Sheeran, Robert Conlon, Alexander Gowers
Gosling
3:02
11.
"Back For You"
Fogelmark, Nedler, Kotecha, Yacoub, Falk, Payne, Tomlinson, Styles, Horan
Yacoub, Falk, Nedler, Fogelmark
2:58
12.
"They Don't Know About Us"
Tebey Ottoh, Tommy Lee James, Peter Wallevik, Tommy Gregersen, Tomlinson, Styles
Ottoh, Bunetta
3:20
13.
"Summer Love"
Steve Robson, Wayne Hector, Lindy Robbins, Payne, Tomlinson, Malik, Styles, Horan
Robson
3:28
Yearbook Limited Edition additional tracks
#
Title
Writer(s)
Producer(s)
Length
14.
"She's Not Afraid"
Bunetta, Jamie Scott, John Ryan, Tim Wood
Bunetta
3:11
15.
"Loved You First"
Bunetta, Tebey, James, John Ryan, Tim Wood
Bunetta
3:05
16.
"Nobody Compares"
Shellback, Yacoub, Falk, Kotecha
Yacoub, Falk, Shellback
3:31
17.
"Still The One"
Yacoub, Falk, Kotecha, Payne, Tomlinson, Styles
Yacoub, Falk, Shellback
3:03
Target deluxe edition bonus tracks
#
Title
Writer(s)
Producer(s)
Length
14.
"Truly, Madly, Deeply"
Trevor Dahl, Tobias Gad, Robbins
Yacoub, Falk
3:01
15.
"Magic"
Yacoub, Falk, Kotecha
Yacoub, Falk, Shellback
3:05
16.
"Irresistible"
Fletcher, Malik, Payne, Styles, Tomlinson
Bunetta, Waters
3:59
17.
"One Thing (Live)"
Yacoub, Falk, Kotecha
Yacoub, Falk
3:26
18.
"I Wish (Live)"
Yacoub, Falk, Kotecha
Yacoub, Falk
3:48
References
Edit